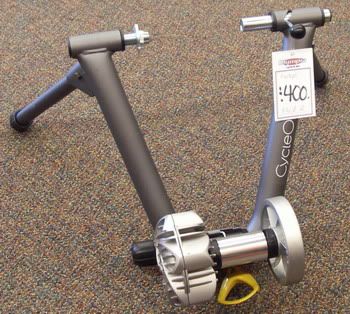 It's getting to be that time of year again, when we (at least some of the time) drag our bikes inside and put them on the indoor trainers. Many of our customers have discovered that using their existing bike, whether it's a road, mountain, hybrid, or comfort bike, on a trainer is more pleasurable than using an 'indoor bike'. That's not to say you can't get some great quality indoor bikes, but using your own bike ensures you're riding in the position you're used to and comfortable with. And if you already have a bike you like why spend the extra money on a full indoor bike when a trainer will in many cases do as good a job if not better.
We carry trainers from a few manufactures but one of our most popular is Cycleops. We have 3 different models from them in stock right now: The Mag+, the Magneto, and the Fluid2. Costs are $260, $340, and $400 respectively. We'll get into more detail on the differences between these models in an upcoming post but for now we'll simply say that the Mag+ trainer uses magnetic resistance that does a good job of providing smooth and varied resistance to challange any fitness level, while the Fluid2 provides a more 'real world' feel where the progressive resistance better simulates what it feels like to be out on the open road. Either model, as well as the one in between, will do a great job of keeping you in shape and they are all rock solid.
They all adjust to almost any size bike wheel (though we recommend using a slick tire on the rear of your bike) and they fold nicely to be hidden away if you don't have the space to leave your bike and trainer out all the time.

If you'd like to feel them for yourself feel free to bring your bike down to the shop to use the trainers for a few minutes. As always we're happy to answer any questions and offer advice in person.